M3 screw CMM probe stylus usually used for coordinate measuring machine probes and flexible scanning probes. The M3 screw CMM probe stylus has many different types, varying in size and material. The CMM probe stylus ball material has ruby, silicon nitride, irconia and tungsten carbide. The following shows some of the M3 screw stylus. You can download our stylus brochure or contact us to get more information.

L1 Overall length
L2 Effective working length
D1 Ball diameter
Ø =4mm(M3)
Overall length L1
It is measured from the rear mounting face of the stylus to the center of the ball.
The effective working length L2
This is measured from the center of the ball to the point at which the stem will foul against the feature when measuring 'normal' to the part.
Straight Styli: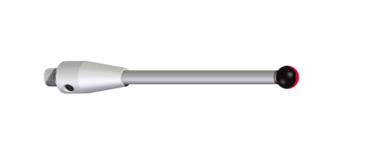 Name

Part number

Ball dia.

mm(in.)

Ball material

Length

L1 mm(in.)

Stem material

EWL*

L2 mm(in.)

M3-C21-RB0.5-S2

S-30-013

0.5(0.02)

Ruby

21.0(0.83)

Tungsten carbide

2.0(0.08)

M3-C21-RB1-S4

S-30-001

1.0(0.04)

Ruby

21.0(0.83)

Tungsten carbide

4.0(0.16)

M3-C21-RB2-S8

S-30-003

2.0(0.08)

Ruby

21.0(0.83)

Tungsten carbide

8.0(0.31)

M3-C21-RB3-S12

S-30-005

3.0(0.12)

Ruby

21.0(0.83)

Tungsten carbide

12.0(0.47)

M3-S21-RB4-S17.2

S-30-008

4.0(0.16)

Ruby

21.0(0.83)

Stainless Steel

17.2(0.68)

M3-S21-RB5-S21

S-30-010

5.0(0.2)

Ruby

21.0(0.83)

Stainless Steel

21.0(0.83)

M3-S31-RB5-S31

S-30-025

5.0(0.2)

Ruby

30.0(1.18)

Stainless steel

31.0(1.22)

M3-P50-RB3-S42.5

S-30-066

3.0(0.12)

Ruby

50.0(1.97)

Ceramic

42.5(1.67)

M3-P50-RB4-S46

S-30-070

4.0(0.16)

Ruby

50.0(1.97)

Ceramic

46.0(1.81)

M3-P50-RB5-S50

S-30-075

5.0(0.2)

Ruby

50.0(1.97)

Ceramic

50.0(1.97)

M3-F75-RB6-S75

S-30-080

6.0(0.24)

Ruby

75.0(2.95)

Carbon fiber

75.0(2.95)

M3-F100-RB6-S100

S-30-085

6.0(0.24)

Ruby

100.0(3.94)

Carbon fiber

100.0(3.94)
Stylus Extensions: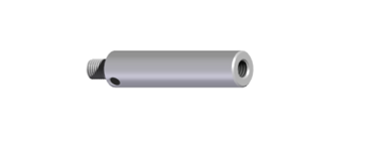 | | | | |
| --- | --- | --- | --- |
| Name | Part number | Length L1 mm(in.) | Stem material |
| M3-S20-000-E4 | S-35-105 | 20.0(0.79) | Stainless steel |
| M3-S35-000-E4 | S-35-110 | 35.0(1.38) | Stainless steel |
| M3-P50-000-E4 | S-35-115 | 50.0(1.97) | Ceramic |
| M3-F75-000-E4 | S-35-120 | 75.0(2.95) | Carbon fiber |
| M3-F100-000-E4 | S-35-125 | 100.0(3.94) | Carbon fiber |
Disc Styli: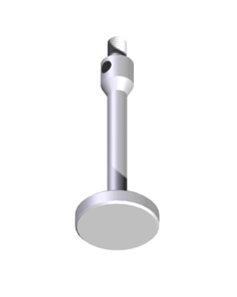 Name

Part number

Ball dia.

mm(in.)

Ball material

Length

L1 mm(in.)

Stem material

EWL*

L2 mm(in.)

M3-S30-SD12.7-S2.3

S-32-110

12.7(0.5)

Bearing steel

30.0(1.18)

Bearing steel

2.3(0.09)

M3-S7-SD35-S5

S-32-115

35.0(1.38)

Bearing steel

6.0(0.24)

Bearing steel

5.0(0.2)
Star Styli: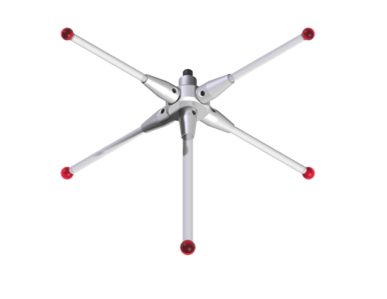 Name

Part number

Ball dia.

mm(in.)

Ball material

Length

L1 mm(in.)

Stem material

EWL*

L2 mm(in.)

M3-C30-RB2-T11

S-31-110

2.0(0.08)

Ruby

30.0(1.18)

Tungsten carbide

11.0(0.43)

M3-C50-RB2-T21

S-31-115

2.0(0.08)

Ruby

50.0(1.97)

Tungsten carbide

21.0(0.83)